Request RISE Data

The process to request the use of RISE data is straightforward. Before beginning your request, please read the RISE Data Request Proposal User Guide. This guide thoroughly explains each step in this process. If you have further questions, visit the FAQs page or contact RISE staff at RISE@rheumatology.org.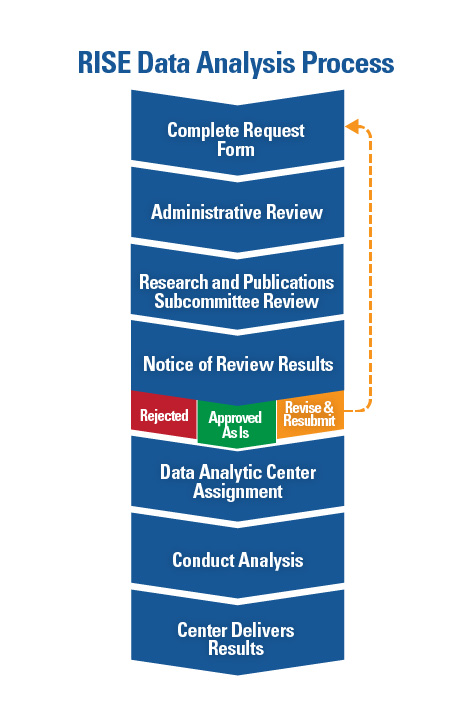 Prepare Your Request
Review the RISE Data Request Proposal User Guide.
Download and complete the ACR's Disclosure Form. You will upload this as part of the online request form.
Before submitting any forms, review the scope of your data request. RISE offers two pathways to choose from: for publication and other. For definitions, see the RISE Data Request Proposal User Guide.
Data Request Process
Step 1 – Complete the RISE Request Form
See a sample RISE Data Request Form
Step 2 – Administrative Review
Once your application is submitted, ACR staff will review the request and provide feedback based on an initial assessment.
Step 3 – Research and Publications Subcommittee Review
After administrative review, the proposal will be reviewed by the RISE Research and Publications Subcommittee.
Step 4 – Notice of Review Results
There are three possible results:
Approved as is
Revise and resubmit
Rejected
Step 5 – Data Analytic Center Assignment
Approved projects are assigned to a RISE data analytic center (DAC) that is highly experienced in analyzing data from electronic health record systems, particularly as it pertains to rheumatology.
Step 6 – Conduct Analysis
Once project activities, milestones, and deliverables are agreed to in a statement of work (SOW), the requestor and the team at the assigned DAC will work collaboratively to complete the analysis.
Step 7 – Center Delivers Results
As the deliverables defined in the SOW are completed, the results will be shared with the requestor.