Arthritis & Rheumatology Journal
Daniel H. Solomon, MD, MPH, Editor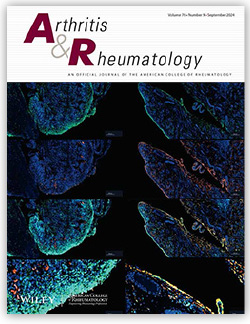 Arthritis & Rheumatology (A&R), an official journal of the American College of Rheumatology (ACR), is a peer-reviewed monthly publication for scientists and clinicians interested in the natural history, pathophysiology, treatment, and outcome of rheumatic diseases.
A&R publishes the highest quality basic and clinical research related to the rheumatic diseases, encompassing a wide range of areas of investigative activity. In addition, the journal publishes review articles, editorials, and other educational material intended for both researchers and clinicians. Serving the worldwide community of rheumatology investigators and clinicians, A&R is known internationally as a top rheumatology research journal.
A subscription to A&R is included with ACR membership.
Read past Arthritis & Rheumatology issues
Journal Access
Member Journal Access
To access the full journal content, log in to My Account and click Arthritis & Rheumatology on the navigation menu.
Potential Member Journal Access
Potential members may access selected journal content including general information, tables of contents, article abstracts, full text of selected recently published open-access articles, and full text of articles published since 1999 (excluding most articles published within the last four years). The full text of articles published within the last four years is available on the journal website on a pay-per-view basis.
Read selected A&R journal content
Browse a free sample A&R issue
Table of Contents 2022–2023
2023, Volume 75
December 2023
November 2023
October 2023
September 2023
August 2023
July 2023
June 2023
May 2023
April 2023
March 2023
February 2023
January 2023
2022, Volume 74
December 2022
November 2022
October 2022
September 2022
August 2022
July 2022
June 2022
May 2022
April 2022
March 2022
February 2022
January 2022