The Rheumatologist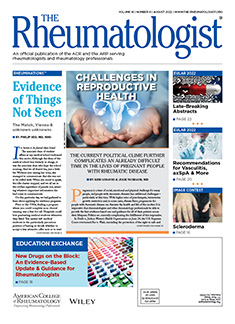 The Rheumatologist is an award-winning newsmagazine featuring practical, evidence-based clinical reviews and analyses; rheumatology news; updates in academic rheumatology; and discussions of current research and legislation to help readers stay informed and equipped to offer the best rheumatology care possible.
A monthly, mailed copy of The Rheumatologist is a benefit of ACR/ARP membership; however, the content is open access online. If you're not a member, you may subscribe to The Rheumatologist.
Editorial Team
The Rheumatologist's editorial staff includes Physician Editor Bharat Kumar, MD, MME, FACP, FAAAAI, RhMSUS; Associate Editors Colin B. Ligon, MD, MHS, and Victoria Ruffing, RN-BC; and Staff Editor Keri Losavio.
The editors welcome your ideas and suggestions! Contact Keri Losavio at klosavio@wiley.com or 408-477-2611.