RISE for Research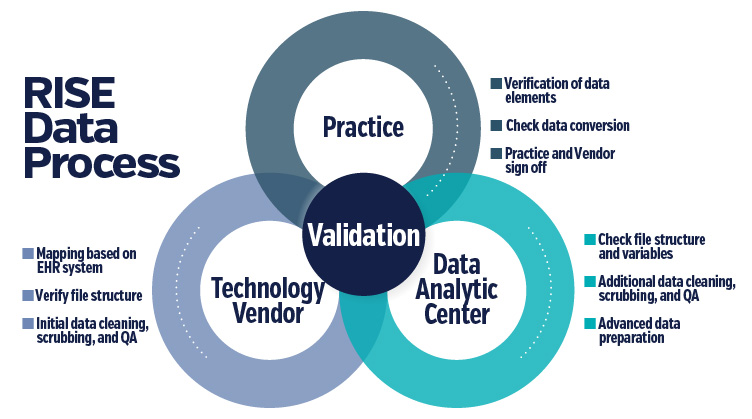 With automatically extracted data from electronic health records (EHR), research using RISE data can advance our understanding of the natural history, outcomes, and treatment of rheumatic disease.
Submit your data request today to access:
Inclusive and comprehensive rheumatology patient data
Treatment pathways and outcomes analysis
Opportunities for innovative research
Request a Consultation
Interested in learning more about elevating your research with RISE data? Complete the Consultation Request Form to get connected to the RISE analytics team.
Unique Benefits of RISE as a Source of Patient Data for Research
RISE is the first and largest EHR-enabled rheumatology registry. Featuring ACR curated Qualified Clinical Data Registry measures, RISE has gained broad use among rheumatology providers. These specialty-specific measures are targeted to help improve the quality of care and are reportable for the Merit-based Incentive Payment System.
RISE is not dependent on a case report form; instead, it automatically extracts data on the entire population of patients at participating practices. This innovative registry includes patients with all medical conditions seen by a rheumatologist and all insurance types. RISE patient data include patient demographics, such as age, sex and geography, and clinical characteristics, such as diagnoses, medications, and outcomes.
Although osteoarthritis and rheumatoid arthritis are the most common diagnoses, the registry includes all diseases seen by rheumatologists, such as psoriatic arthritis or systemic lupus erythematosus, and includes patients with many rare diseases, including granulomatosis with polyangiitis, microscopic polyangiitis, Behçet's syndrome, Takayasu's arteritis, inflammatory myopathies, and more.
Since RISE patient data comes directly from EHRs, it provides a robust source of patient information. These data are more up to date than data from administrative claims or chart reviews, which often have significant delays in aggregating results.